Color Ribbons

YMCKO
Heidi provides a full range of direct-to-card color printing options for clear and crisp images in full color.

YMCKOK
Full-color ribbons with an additional black panel to print black text or barcodes on the back of your plastic cards. Great for membership cards, loyalty cards, student IDs, and insurance cards where disclaimers are generally printed. YMCKOK is ideally used with the CP55-D printer.

YMC FULL KO
The reduced size of color panels (YMC) with full-size KO (black and overlay) enables the user to print partially in color.
Available as 1/2 YMC Full KO and 1/3 YMC Full KO ribbons, ideal for applications to print a small photograph using color and the rest of the content in black.

YMCKUVO BLUE
A widely used option to enhance card protection using the UV security printing feature. Add ultra-violet images or text on multiple areas of your artwork and print it using a blue UV panel to support easy verification and add another layer of security to your cards.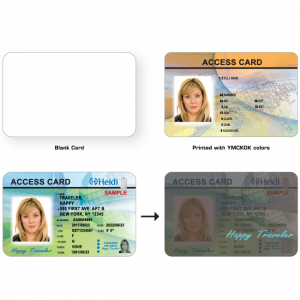 Ribbons With Extra Security
Heidi CP55 provides additional layers of security printing to protect cards against fraudulent activity.
Custom Watermark Secure watermark added during ​printing, using standard color ribbons.
Ultra-Violet Images A covert protection layer printed using the UV panel of YMCKUVO ribbons.