Heidi CP55-D Dual-Side Card Printer
The modern dual-sided card printer Heidi CP55-D was built to effectively fulfill client requirements for a high-performance and easy-to-use card printer. It was carefully designed by GET Group to deliver an outstanding printing quality at a competitively lower cost-per-card and to remarkably serve a wide range of card-issuance applications. It is perfect for low-to-medium production requirements.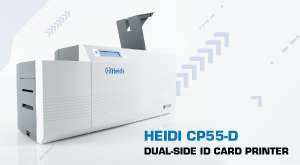 Features and Benefits
Heidi CP55 is a high-speed direct-to-card printer built to deliver innovative imaging and excellent printing quality at a competitive cost-per-card. It is a highly adaptable solution designed to serve many sectors within various user environments and card-issuance operations. Heidi CP55 is simply deployed, operated and maintained.
User-FriendlyEasy-to-use and maintain, simply plug and print.
AffordableReliable operations, high-resolution printing offered at a reasonable price.
Highly ScalableAn all-in-one printing solution with upgradable options, ribbons and software.
Trusted SecurityContact, contactless, and magnetic stripe encoding for high-standard digital security compliance with EMV. Equipped with physical lock.
Smart DesignCompact size with a unique design, ideal for limited workspaces.
CapabilitiesThe CP55 is a high-quality printer with 300×300 dpi, edge-to-edge printing on various types of cards and thickness with a wide range of ribbons.
OperationAll-in-one ribbon cassette and cleaning roller simplify ribbon loading and cleaning processes. Easily operated LED indicators, buttons and instant system status LCD display.
PerformanceThe built-in 64 MB memory facilitates the high-speed storing and processing of printing jobs.
PersonalizationProvides multiple options for protection against card tampering and fraud attempts by adding a covert layer of security using an ultra-violet (UV) ribbon along with smart card encoding. It supports the secure global EMV standard, ensuring that cards are interoperable with the global payment infrastructure.
ModularitySeamlessly upgrade to magnetic stripe, smart card encoders and physical lock for trusted security. Additional feature of Ethernet upgrade module enables Heidi CP55-D printer to be networked for access by multiple users or from a central location.
Technical Specifications
Standard Features
Printing Method
Direct to card dye-sublimation/resin thermal transfer
Accepted Standard CardSizes/Format
ISO CR-80 (3.375˝L x 2.125˝W/85.6 mm L x 54 mm W)
Accepted Card Thickness
0.38mm (15mil) ~ 1.0mm (40mil)
Resolution
300 dpi (11.8 dots/mm)
Print Area
CR-80 (3.36˝L x 2.11˝W/85.3 mm L x 53.7 mm W)
CPU
AM3352 600MHz
Printing Speed
Color (YMCKO): 170 cards/hour
Color (YMCKOK): 130 cards/hour
Black Overlay (KO): 360 cards/hour
Mono (Black): 720 cards/hour
Print Ribbon Options
Full-color with resin black and overlay panel, YMCKO, 250 prints/roll
Full-color with two resin black panels and overlay panel, YMCKOK, 200 prints/roll
Resin black with overlay panel, KO, 600 prints/roll
Mono (Black, Gold, Silver): 1,200 cards/roll
YMCUVO Blue: 200 prints/roll
Half YMC Full KO: 350 prints/roll
Input Hopper Card Capacity
100 cards (200 cards with cover open)
Output Hopper Card Capacity
40 cards (100 cards with option backside stacker)
Card Cleaning
Cleaning roller with each cartridge
Memory
ROM: 2MB, RAM: 64MB
Software
GET Identity (ID Card Design & Management Software)
Interface
USB 2.0, Ethernet Optional
Display
2 Lines(16×2) LCD & LED
Power
Free Voltage (110/240V AC), 50 ~ 60 Hz, 45W
Dimensions
486mm(W) x 208mm(H) x 166mm(D)
Operating Environment
Temperature: 20 ~ 35℃, Humidity: 20 ~ 80%
Weight
6.0 Kg
Certification
CE, CB, FCC
Operating System Support for Printer Driver
Windows 7/8/10, Linux, Mac
Warranty
24-month standard depot warranty | 24-month print head warranty
Kensington Lock
Back side
Field-Upgradable Options
Magnetic Stripe Encoder
ISO7811 (Track Ⅰ, Ⅱ, Ⅲ Read/Write)  HiCo/LoCo
Contact Smart Card Encoder
ISO/IEC 7816-1,2,3,4: IC Cards with contacts
EMV Terminal Level 1 version 4.1
Contactless Smart Card Encoder
ISO14443 (Type A/B)
MIFARE®, MIFARE DESFire® iCLASS®
EMV2 2000 Level 1
Ethernet
TCP/IP 10/100 BaseT
Physical Lock
Top cover lock